University of Toronto alumnus Abraham Heifets has spent the past seven years channeling his love of science and a desire to impact the world into Atomwise, a company that is applying the latest advances in neural networks to make better drugs faster.
He credits his graduate school experience as a remarkably good training ground for launching a startup. "As a scientist, especially a grad student, you have to figure out how to be scrappy and to answer a question," said Heifets. "That is what a startup is. You have a whole series of hypotheses, and you have to run a whole series of experiments to prove or disprove them, iterate and do it again. As a scientist, the mental process is exactly the same."
Yesterday, the Impact Centre hosted Heifets as the latest speaker in the RBC Entrepreneurship and Innovation Speaker Series. The event, supported by Canada's largest bank, aims to engage and inspire U of T students to embrace a more entrepreneurial spirit as they work on their studies.
While the technology of machine learning might be complex, Atomwise is built on a simple idea. Pharmaceuticals is one of the only industries that builds and tests millions of prototypes – in this case individual molecules – to find one that could act as a drug. From automotive to construction to aerospace, new products are extensively simulated with computers before anything is ever built or tested. Atomwise is bringing this idea to drug discovery by repurposing the ideas behind image recognition algorithms to help companies narrow the number of molecules they need to test, bringing new life-saving saving therapies to the clinic faster.
Before raising over $50 million in funding and working with large pharmaceutical companies like Merck, Pfizer and Abbvie, as well as over 100 academic research groups, there was a lot of coffee and a desire to have an impact. 
"In 2011, I was a PhD student," said Heifets, "and the genesis of what would eventually become Atomwise was that a buddy of mine, Izhar Wallach, we would go get coffee together."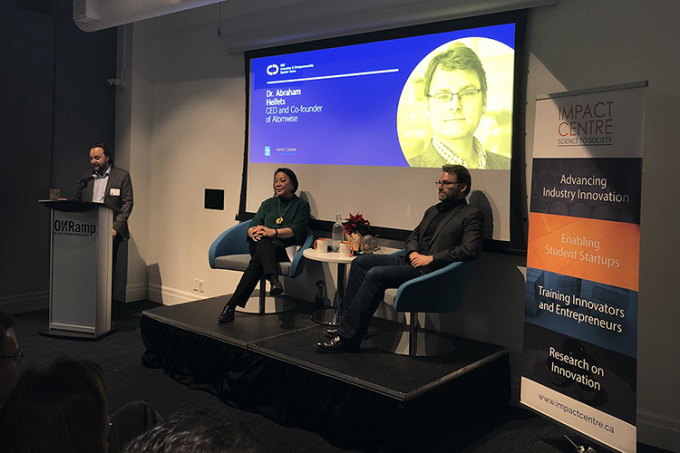 "As a scientist, especially a grad student, you have to figure out how to be scrappy and to answer a question," said Abraham Heifets (right) on Wednesday night at ONRamp. "That is what a startup is."
They would talk about the rising interest in machine learning, the new datasets that were becoming available and possible research questions.
But it was in 2012 that the pair decided to apply for Techno, the Impact Centre's training program for transforming scientific insights into startup companies, and began their startup journey.
The standing-room-only Speaker Series audience at U of T Entrepreneurship's ONRamp heard about those early days of the company. "The first couple of years were really, really tough," he said. "I have to say, without the Impact Centre Atomwise wouldn't exist. Our first office was a closet, but it was an office, and that was a big deal."
There was also the time when Atomwise almost broke up because they had come close to running out of money and Wallach was going to have to go back to Israel. But the Impact Centre was able to award him a commercialization post-doctoral fellowship for a year, and he was able to stay and continue working. "You always hear that startups have several near-death experiences, and this was one of them."
Further grants and fellowships from the Ontario Centres of Excellence, the Ontario Brain Institute, and Grand Challenges Canada allowed the company to bootstrap its way to improving its technology, building partnerships, and developing a business plan. After participating in the Creative Destruction Lab's first cohort of companies, they applied to the Y Combinator accelerator program in California and received their first $6 million of investment in 2015.
"Atomwise is an excellent example of bringing the deep science being developed at U of T to society," said Professor Cynthia Goh, director of the Impact Centre. "Their success is inspiring to other students, researchers and faculty who want to see their discoveries make an impact on the world."
The company has since grown their team to 32 people, expanded their academic and industry partnerships, and completed a $45 million round of funding earlier this year. While they now call California home, Heifets quickly acknowledges their close connection to Toronto.
"There is incredibly strong machine learning talent, a lot more money has come up, and there is an international focus and a breadth of both the people who come here and the perspective that people have," he said. "These are real advantages for both Toronto and Canada."
"What is so inspiring is Abraham Heifets's wisdom, his perspective, and his ability to apply new thinking to a challenging problem," said Professor Scott Mabury, vice-president, university operations at U of T. "Atomwise started with such a persuasive vision, grounded in their time at U of T, and demonstrated the critical role the Impact Centre played in connecting the team's desire to address a hard problem with the folks who could help make it a reality."
This article was originally published at the UofT News website.
Categories
Tags