With work integrated learning on the rise, students are looking for more opportunities to enhance their post-secondary education. For students Christian Garcia Salguero and Joseph Belcastro, they chose to gain experience by enrolling in the Impact Centre's IMC392 startup internship course. Now both students work with local Toronto companies, learning about business development and innovation in a unique startup environment.
"Working for a startup, you have to put some effort but then you get lots of experience, lots of skills, and to really see how a company works, which you might not see in a big company because they have so many layers" said Christian.
Christian is specializing in Computer Science and currently interns at Xesto, practicing skills he's learned in the classroom such as computer vision and machine learning, while learning new skills in research, product implementation and negotiation. But prior to IMC392, he gained work experience by doing web design for the Computer Science Department at U of T, and interning as an Android developer at a software company in Mississauga for his professional experience year (PEY).
The focus on innovation and the support for entrepreneurship in Toronto is what attracted Christian to the Impact Centre's unique internship opportunity. He felt it was the right opportunity to put into practice what he's learned in class, while getting the support he needs to further develop his innovation skills.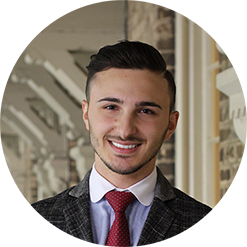 At the same time, his classmate Joseph is interning at PeerSway, working on business development and interacting directly with customers. Although Joseph has experience as a TD Bank sales representative, he quickly learned how different it is to sell not only your service and skills, but to sell a new brand as well.
"The same sales tactics that you use at one job are completely different at another, because now you're not only selling yourself, but you're selling what the business offers as well" said Joseph.
With a double major in Economics and Political Science, and his interest in business and innovation, Joseph also has found many connections between his internship experience and his studies. He even notes that it was learning about the innovations of ancient civilizations, such as the Romans and Egyptians, during his Classics courses that inspired him to pursue his interest in innovation.
"Seeing how innovative they were, it just sparked that fire in me that much more… If we look at history, or consider the past, we see, 'wow' these things have already been here and we just try to make things better, each and every time. As we find ways to make things better, that's how we improve. And over 2000 years, look how far we've come."
Both students are also learning that customer experience is a top priority, especially in a startup.
"When you work for a small company, the relationship between the product you develop and the customer that's on the other side of the development cycle is much more apparent. How the customer thinks and what the customer wants should influence how our product behaves and looks. When you innovate, you are doing it for your customers and society in general, so keeping that in mind is important," said Christian.
"Now, everything is more experience based… For me, it's about being able to capture the one-on-one experience and make it a more personal experience for the customer," said Joseph.
As both students finish up their placements this term and prepare for graduation, they hope to use the knowledge they've gained and skills they've developed in their future careers. Christian hopes to go on to graduate school and develop his ideas into his own business, while Joseph hopes to brings his new skills into his family's business. And thanks to their experiences in IMC392, they are better prepared for their future.
Categories