It starts with a question.
How can tech startups solve problems facing society today?
It's something the Impact Centre in the Faculty of Arts & Science at the University of Toronto has been encouraging students to think about with Techno — the centre's elite entrepreneurship training program.
"Techno is a unique program designed for scientists by scientists," said Leo Mui, manager, entrepreneurship programs at the Impact Centre and Techno's coordinator.
"It's important that students and recent graduates in the sciences have access to entrepreneurship training that's tailored to the way they think and communicate, so they understand that they're every bit as capable of starting and running a company as someone with a business background."
With five full days of sessions led by Impact Centre instructors, startup entrepreneurs and industry professionals, Techno — now in its 10th year — has quickly become the business boot camp for students and recent graduates who have great startup ideas, but may not have a background in business.
The program was just what Matthew Gehring, a fourth-year Rotman Commerce student and member of Trinity College, was looking for when he applied to Techno.
He had developed a new technology called True Sear Grill — a grilling accessory aimed at preventing barbecue flare-ups without blocking the flow of heat from barbecue burners.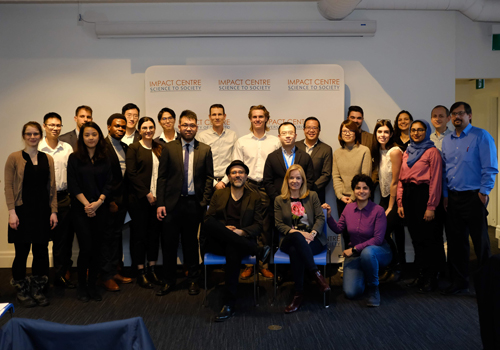 "We knew there was potential for it, but needed some assistance turning the technology into a viable business," said Gehring. "Techno's comprehensive program was just what we needed to get us on the right track."
Trainees learn business basics, how to turn an idea into a commercial product and gain an understanding of what it takes to run a tech startup.
"There are many students at U of T who want to use their knowledge and skills to make a difference in the world and Techno is a way to help them do that," said Mui. "The entrepreneurial skills and attitudes they pick up during Techno can be applied to future careers in their own companies or as an employee."
Gehring credits Techno for pushing him to get his business going. Noting that he filed for a provisional patent for True Sear Grill and set a launch date while enrolled in the program.
More importantly, he says it taught him a valuable business lesson — understand your customer.
"Understanding our customer's needs, wants, interests and pain points has helped us further develop our product into one that is truly worth purchasing," said Gehring. "Hearing what customers have to say has been incredibly valuable for us and shaped who we are as a business."
The three weeks of sessions culminate in a final pitch event — think CBC's Dragons' Den or ABC's Shark Tank — where Techno trainees put their new business knowledge to the test and present their products to a panel of judges.
It's the part of the program that Mui says really excites him year after year, noting the "hard work and passion" that trainees put into their presentations.
This year, teams True Sear Grill, pitched by Gehring and Zearup — a healthcare startup creating an adhesive skin patch to prevent hypoglycemia in diabetic patients — pitched by Brian Lu of pharmaceutical sciences at U of T took home the top prize of $600
The other winners highlighted the breadth of technologies and student backgrounds in the Techno program. Adaptor — software to automate architectural designs and building renovations — pitched by Sheida Shahi of civil and environmental engineering at the University of Waterloo and Nightingale.ai  — a physical function assessment tool for caregivers — pitched by Chao Bian of biomedical engineering at U of T received the $400 cash prizes.
Reeddi — an initiative providing portable electric power in energy-poor communities — pitched by Olugbenga Olubanjo, an U of T engineering alumnus, took home the Bereskin & Parr prize, which includes a free patent search and a discounted patent filing fee — 50 per cent off — courtesy of the award-winning Canadian intellectual property law firm.
Would Gehring recommend Techno to future A&S students?
An unreserved yes.
"I would recommend Techno to any Arts & Science student who has a great business idea and wants to discover what it takes to become an entrepreneur," said Gehring. "For students who may not have received a formal business education, Techno gives you what you need to start a successful product-based startup."
And for Mui, he hopes students walk away from Techno with new skills that allow them to evaluate their current business idea and conceive of their next one.
"I hope that our trainees, whether or not they decide to continue building their startup, take away a better understanding of how technology-based businesses work, how to speak to the public about technology and how to critically evaluate their business ideas," said Mui.
This article was originally published at the Faculty of Arts & Science website
Categories
Tags