Toronto's streets will soon be more accessible to people with disabilities thanks to a new smartphone app developed by iMerciv, a startup co-founded by University of Toronto civil engineering alumnus Bin Liu.
Last week, iMerciv became the first Canadian recipient of Microsoft's AI for Accessibility grant, which funds organizations that use artificial intelligence to empower people with disabilities.
The grant — which includes access to Microsoft's Azure cloud computing service — will enable iMerciv to develop and launch their pedestrian navigation app MapinHood.
The app — currently being pilot tested in cooperation with the CNIB Foundation — is being developed with users in mind.
"Current navigation software is designed for cars, not people," explains Liu, iMerciv's CEO. "MapinHood uses inclusive crowdsourcing and machine learning to identify barriers like construction and amenities like benches, to help pedestrians — especially pedestrians with disabilities — find the best route to where they want to go."
Liu — who graduated with a bachelor applied science from the Faculty of Engineering at the University of Toronto in 2014 — started iMerciv in 2014 with Arjun Mali, now the startup's COO, when they discovered their mutual passion for improving the lives of people with vision loss. Liu's father was diagnosed with inoperable glaucoma and Mali's family had supported a school for the blind in India.
The two co-founders developed their idea and business at Techno, the elite entrepreneurship-training program at the Faculty of Arts & Science's Impact Centre.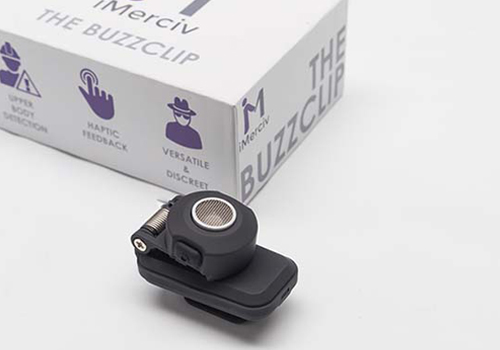 With the mentorship and guidance of the Impact Centre, Liu and Mali developed iMerciv's first product, the BuzzClip — a wearable device that uses ultrasonic technology to detect head-level obstructions in front of the user, alerting them through vibrations.
And in 2017, iMerciv won the $100,000 TELUS national pitch competition, which allowed them to expand globally.
"Working closely with the vision loss community has helped us identify their top needs and we are thrilled to be able to address them with MapinHood and the BuzzClip," says Mali.
Richard McAloney, director of entrepreneurship at the Impact Centre, says he feels fortunate to be a part of iMerciv's journey and see the company grow.
"Along with making a real impact in the lives of their customers, Bin and Arjun are now giving back to our programs by hiring students in our entrepreneurial experiential learning courses and mentoring newer Techno companies."
This article was originally published at the Faculty of Arts & Science website.
Categories